TECH TALK:

Active analytics for dynamic inventory replenishment
DATE / TIME: June 10, 10 AM SGT/BST/PDT
For retailers, ensuring products are always in stock is a top priority. However, with the complexity of the modern supply chain and the sheer number of SKUs involved, this is a significant logistical challenge. Retailers need to be able to analyze data from stores in real-time and adjust inventory to meet customer demand. Kinetica works with one of the world's largest retailers to power dynamic inventory replenishment to ensure their customers always have what they need.
IN THIS WEBINAR WE'LL DISCUSS:
Challenges to delivering dynamic inventory replenishment at scale

Key components of a data-driven replenishment solution

An example of how active analytics enables real-time analysis of streaming point of sale data to power inventory replenishment

MEET THE HOST:
Saif Ahmed – Product Owner-Machine Learning, Kinetica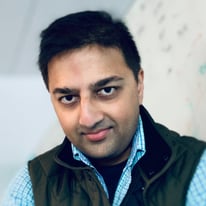 Saif is an accomplished quantitative developer, machine learning practitioner, and senior executive with two decades of experience in management consulting, quantitative hedge funds, and AI software startups. He has held a number of senior roles and serviced clients across the US, Europe, the Middle East and Asia. Saif is currently applying his experience at Kinetica, leading ML Product Engineering efforts for a next-generation Machine Learning product line with database adjacency.