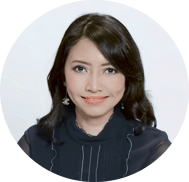 DATE: Wednesday, June 3, 2020
MEET THE HOSTS:
Vira Shanty, CEO and Founder, Frontera Consulting & formerly CDO, OVO & Lippo Group
With our society, governments and enterprises in the midst of digital transformation, opportunities to benefit from this torrent of data abound. Yet, many organizations are struggling with how to monetize this new data, and are limited by old "BI" mindsets.
Our topic in this session is "CDO tech", how Chief Data Officers can help their companies shift their analytics practices to realize new opportunities of digital transformation. We'll be joined by Vira Shanty, CEO and Founder at Frontera Consulting, and previously Chief Data Officer at OVO, the leading digital payments platform of Indonesia. While Vira was at OVO, they received multiple international digital and data awards for their innovation. Prior to joining OVO, she worked for Telkomsel, the largest mobile telecommunications organization in Indonesia and led their data analytics team.
IN THIS TALK WE'LL COVER:
How digital transformation has changed organizational data and analytics
A methodology for finding new analytics opportunities beyond traditional BI
How to renew your data journey with the right mindset
How to choose first use cases and next use cases toward data monetization
How to shift to an architecture supporting active analytics